When most of us think of "family" we immediately think of our biological families. You know, your mom, dad, your siblings, grandparents. Well, if you work for Clifton-Heights based Rosati Ice, you are lucky and blessed to have an extended family.
And no one is more thankful for his Rosati Ice extended family than Mr. Hong Ly, who was born in Vietnam and came to work in our plant 18 years ago.

Mr. Hong, as he is affectionately known, was a junior officer in the South Vietnamese Army when the communists over ran the country in 1975. He was placed in a 're-education camp' for years and was slowly dying away when his captors released Mr. Hong to his family who nursed him back to health. At the family's first opportunity, they escaped Vietnam by floating away on a boat praying that a ship would pick them up. After many days at sea their hopes were realized and some time later, Mr. Hong and his family migrated to Philadelphia where he has resided for the last forty years.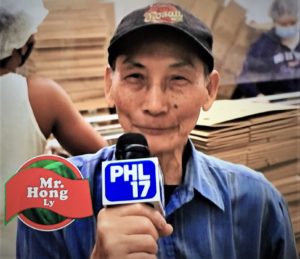 The smile on his face says everything. His coworker, logistics manager, Pat, definitely agrees. Mr. Hong always has a smile on his face and greets me with a big hello, how are you doing and good morning and afternoon."
Never missing work, Mr. Hong always is pleasant and respectful with his co-workers and is considered a Rosati Ice treasure. He is most proud of his children and six beautiful grandchildren.

Recently, the Rosati family was interviewed by PHL 17 Weekend Philler producer, William Lehan.. Mr. Hong couldn't have been happier to speak into the microphone and declare his favorite Rosati Italian ice flavor. Actually, he has a few favorite flavors – cherry, pineapple and coconut!
Anyone who has tasted our refreshing, flavorful Italian ice in our 6-oz, 10-ounce, 2-quart party pails will agree.
Mr. Hong's Favorite Flavors
"Everyone feels like family." "Like family to me." "They are like my family." "One great big family" "Proudly say they are my family."
No matter who says it or how, Rosati Ice is a family business and we are proud to have Mr. Hong Ly as part of ours!