Most of us aren't old enough to remember when the circus came to town, but we can certainly imagine the excitement. The magic. The thrill.
Rosati's distributor customer, Bob Miner, owner, Circus Ice Cream, and his team bring a sprinkle of that magic and excitement when their mobile vending trucks cruise the neighborhood streets in southern Maryland and when their pushcarts appear at events for schools, hospitals, and businesses. "Every type of business you can imagine," states Bob.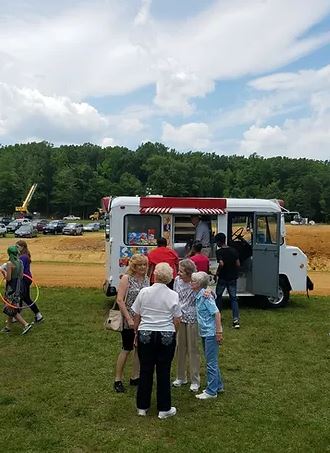 The wheels started rolling decades ago when Bob worked in landscaping all through high school. Like most business owners I have interviewed for our Rosati Ice Scoop, when I called to interview Bob, his assistant, Matt Volland, said, "He's in the freezer." Yep, hands on! Together, handling every aspect of the business.
To name his company in 1979, Miner only had to look at the name on the ice cream truck he purchased – Circus Man.
Bob admits "to scaling back 20 years ago," but that didn't change the company's core mission – selling novelty ice cream, candies, Rosati Italian ice, sodas, and snacks from mobile vending trucks, pushcarts and concession stands. "All prepackaged items." Unlike many of Rosati Ice's customers, Bob's business is NOT seasonal; he has "dry ice contracts with the government 52 weeks a year."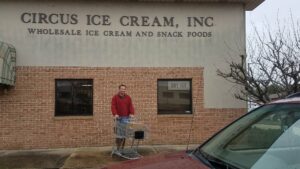 This savvy business owner's biggest accomplishment – among many – was staying open during COVID. "No pay cuts, no layoffs, kept doors open," recalled Bob. But, like many of Rosati's customers, Miner struggled with "supply chain issues."
Bob knew about Rosati Ice from another distributor, and luckily, due to changes in Rosati's logistics and warehouse upgrades, Bob purchased directly from Rosati. His inventory includes: 6-ounce Rosati Ice cups in Crybaby sour cherry and 10-ounce full flavor cups in cherry, lemon, mango, watermelon, patriot (cherry, lemon, blue raz), Crybaby sour apple, cotton candy/blue raspberry swirl, tropical rainbow (cherry, lime, pineapple), and American Hero (strawberry lemonade). All refreshing and delicious! All made with natural sugar and allergen-free!
Everyone has their favorite flavor of dairy-free, fat-free, gluten-free Rosati Ice and Bob is no exception. His favorite is cherry Italian ice and his customers concur; his company's top seller is 10-ounce cherry Italian ice cups. "I like the people at Rosati. They are easy to work with."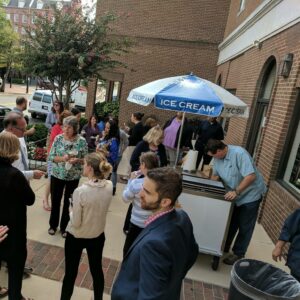 Operating a business for decades, Miner has been around the block a few times and hears all the time, "I used to buy from you. It's a generational thing. Over the years, my business has increased by word of mouth and repeat customers. Every day someone contacts us." (There's certainly no need to plaster colorful posters all over town to announce his "Circus'" arrival.)
Similar to when the circus' caravan paraded down the main streets and evoked smiles, "Kids have big smiles when they see the ice cream guy on their street and it makes parents happy, too," Bob explained. After all, isn't that what it's all about?
Rosati Ice (America's first and the world's best Italian Ice) and Circus Ice Cream creating smiles for miles!
Wholesale Ice Cream & Snack Foods
16 Irongate Drive
Waldorf, MD 20602
301-843-8846
Like us on Facebook