We all need the kindness of friends, especially now. Rosati's relationship with their newest customer – Weaver Markets in Denver, PA – an old-fashioned, family-owned quality supermarket since 1968 – started with an inquiry from JoAnn Buckwalter to Don Rutt, their Frozen Food Manager.
Luckily for Rosati, JoAnn is a HUGE fan of Rosati Ice's full flavor, scoopably delicious Italian ice and also is a high school classmate of Rosati Ice's owner, Rich Trotter. (We won't tell you what year they graduated…)
JoAnn, an Adamstown resident, has been shopping at Weaver Markets for 25 years and often wondered why they didn't carry Rosati Italian ice. Not known to be shy, JoAnn approached Don Rutt and he explained that he purchased Rosati Italian ice years ago when Rosati cups were sold in boxes. She was determined to make a sale and Don asked her to "call her boss". JoAnn's exuberance and curiosity paid off!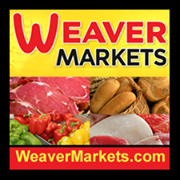 Rosati delivered 10-ounce cups in twenty flavors and 2.5-quart party pails in five flavors to the store in June. Traditionally, Rosati Ice is sold seasonally in food stores, but, at Weaver Markets, Rosati Ice 10-ounce cups and 2.5-quart party pails are sold all year long.
Smooth Texture. Variety of Flavors!
Unlike other national brands, Don likes the smooth texture, that Rosati is known for, and the variety of Rosati's flavors. When asked what are his top selling Rosati flavors, Don states, "Root beer is the best, followed by mango, cherry, and blue raz. One of my coworkers bought a WHOLE case of 10-ounce chocolate cups. Rosati's 10-ounce coconut cup is the go-to refreshing treat of one customer. "When I couldn't get Rosati in, some people had a fit." (Yep, that's what he said!)
Rosati's 2-quart party pails are found in two spots in the frozen food section – stocked with 5-quart tubs of ice cream. "Rosati sells better there with the bulk items," claims Don. Rosati's 10-ounce cups are in coffin cases (strange word to describe a freezer!) along with Rosati's new 99-calorie Sugar FreeZ 10-ounce cups in cherry, lemon and mango and Rosati's new fruit ice 10-ounce cups – made with 100% juice – in cherry, lemon, and mango. What a selection!
Ideal Demographics. Rosati Ice Sells Well Here Even in Winter
The location of Weaver Markets and the store's demographics are a big plus for Rosati. According to Rutt, "There are older housing developments nearby and people walk to the store." JoAnn adds, "This is a unique area. People come from all over to 'Antique America'. There are extravaganzas and the hotels are filled. Rosati ice will sell well here, even in the winter."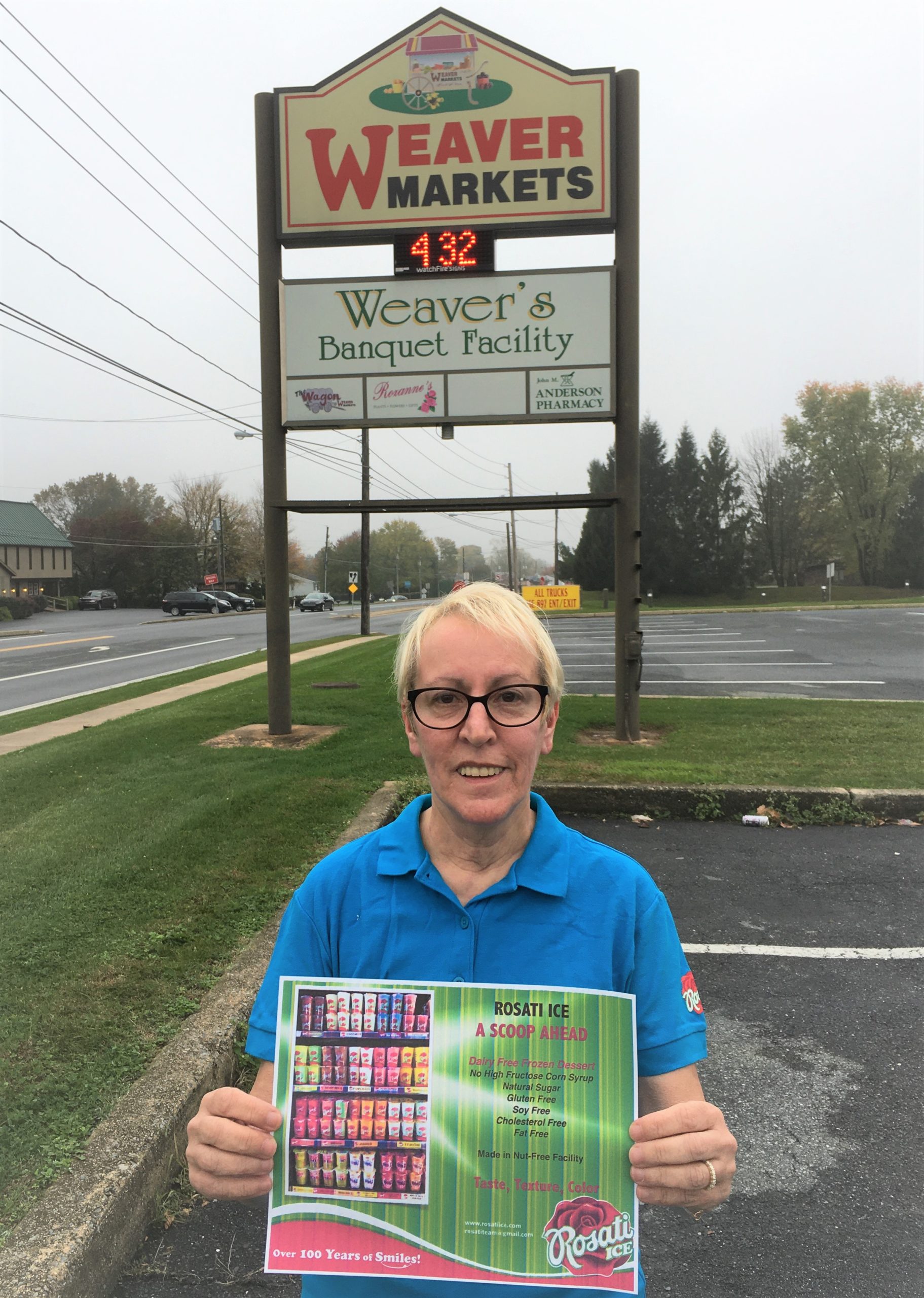 Weaver Markets "support and strengthen the surrounding community in every way possible," according to their web site. For example, with five different school districts nearby, the Weaver folks support each school's fundraisers. "All of them get their turn and receive 25% of the revenue from The Wagon," states Don, a 35-year store employee.
JoAnn is a Rosati Ice treasure who is greatly appreciated! "It is especially gratifying to have a longtime good friend who not only recommends your business but solicits the customer directly", says Rich Trotter, Rosati Ice owner. She visits Weaver Markets twice a week and straightens out the stock for a pleasing display. While she's there, she can't resist buying some Rosati Ice cotton candy/blue raz to bring home. Thank goodness for the kindness of friends! Thanks, Don Rutt and JoAnn Buckwalter for bringing our Italian Ices into your favorite store! Visit Weaver Markets today!!
2610 N. Reading Rd
Denver, PA 17517
717-484-4302