How many times have you asked someone "What's New?" and received a general reply such as "Same old, same old." "Nothing." "Not much." Well, for America's First and the World's Best Italian Ice company, Rosati Ice, the words above hardly describe what's happening with this 111-year-old company. Where to begin?
From mobile vending and food stores to schools and scoop shops, Rosati is always leading the industry with authentic flavors and attractive packaging. And, of course, fun for all!
Mobile Vending – Pup Cups, Decals, T-shirt Promotion
Rosati introduces its first ever dairy-free Yo' Dawg Banana Flavored Pup Cup! Looks like they like it 🙂

With dozens of selections promoted on the outside of food trucks, vans, and carts, point-of-sale items aid the consumer in selecting their favorite treat. For those who need dairy-free, nut-free, and gluten-free treats, these icons were added to Rosati Ice's decals.
To create a memorable experience, to build brand identity and to add cool style to a youngster's wardrobe, Rosati Ice brought back its popular T-shirt promotion in a tech-savvy way. Simply save the cup lids, snap a photo of them, upload the photo to Rosatiice.com/promotions, choose your T-shirt (Crybaby, Yellow Snow, Rosati rose or Rosy 'Moji), your size (available in youth sizes only) and fill in the on-line form to order. Easy Peasy. Here's looking at you, kid!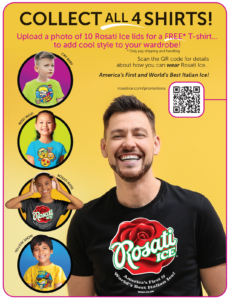 T-shirts are also available for purchase without the lids promotion and can be purchased by our distributors for your mobile vending drivers, staff and team at a special discount.
Food Stores – Display Boxes, Hispanic Flavors, One-Gallon Party Pails
As a manufacturer, Rosati Ice services both of our customers at the food store level – the frozen food managers and the shoppers. Therefore, Rosati developed new cup trays that can easily fit on the freezer shelves – instead of being thrown away – to save stocking time and to help the consumer easily find their favorite 10-ounce cups. A win-win for all!
Rosati Ice acknowledges our country's rich diversity and thus, to appeal to the Hispanic market in the Western US, Rosati Ice developed 10-ounce cups in mangoñeada, pineapple, horchata, and tropical rainbow (cherry, lime, pineapple) flavors.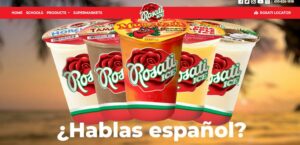 Share the fun! If you want a dairy-free, nut-free, gluten-free refreshing frozen treat for your next party, picnic, or reunion, look for the NEW gallon party pails in the Philadelphia area ShopRite stores in the four most popular flavors: cherry, mango, patriot (cherry, lemon, blue raz), and strawberry lemonade. Rich Trotter, President, Rosati Ice, states, "They offer a nice option, and the pails don't take up a lot of space in the freezer." (bottom shelf in freezer photo above)
Smart-Snack Approved 4.4-ounce cups now including Good Fortune Ice
For decades, Rosati Ice has been known in schools throughout the country for their 4.4-ounce Italian ice cups that are smart-snack approved and major allergen-free. Rosati Ice seasonal flavors include October's Chillin' Bat to all year festive flavors like Birthday Cake. Good Fortune Ice was introduced last season in a yummy orange flavor with a fortune under each lid.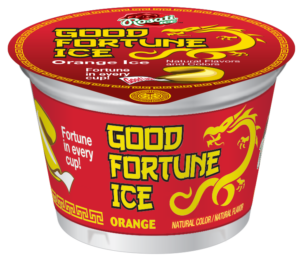 No matter what you call it – Rosati Ice, Italian Ice, water ice, or "wooder" ice – as we say in the Philadelphia area – and no matter where you purchase it, the management and staff at Rosati Ice are always testing and developing new flavors, designing new packaging and point-of-sale items, and creating happy memories for many and fun times for all!