There's been a lot written about the Kinsley ShopRite in Brodheadsville, PA. Sponsorship of the West End Fair. Opening of THE largest ShopRite in the world. Volunteer work with the fire company. "Partners in caring" fundraising event.
What has not been written about this family has been their willingness to be Rosati Ice's "first." "First" to carry Rosati Ice's full flavor Italian ice year-round in their front endcap – a huge "first" as food stores typically stock Rosati Italian Ice only from Memorial Day until Labor Day. "First" to stock NEW scoopably delicious flavors – Rosati Ice's Sugar FreeZ in cherry, lemon, and mango, and our fruit ices in cherry, lemon, and mango. And as of this week, "First" to carry our 6-oz Yellow Snow (white and lemon swirl) and Rosati Ice 6-oz Cry Baby sour cherry ice.
Unbeknownst to consumers, ShopRite stores have different business models than other supermarket chains. For example, their stores are "owned and operated by members" and the Kinsley family owns and operates "the largest ShopRite in the world." Once you see and shop in this friendly store, you will be hard pressed to dispute this claim.
Comfy Upstairs Lounge, Unique Charm
At 100,000 square feet, the store is about twice the size of a football field. Just imagine the selections, the variety, the amenities! My favorite is the comfy upstairs lounge, Doris' Café, named for the President's mom. Relax, eat, and watch all the hustle and bustle below. Look down and see the model train that runs on tracks suspended above the checkout area. Lanes are designated by railroad crossings. I'm not kidding. It is such a fascinating and fun experience to enjoy all of this store's offerings!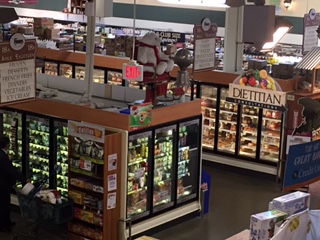 Despite its massive size, the store has a unique charm with the added feel of a mom-and-pop grocery. Personally, I dislike shopping in large stores, but this one is distinctly different. It really is fun to shop here, being surrounded by memorabilia from days gone by and a friendly, helpful team ready to assist. The big store also symbolizes the management's big heart for helping in any way they can in their beloved community, from the homeless and hungry to the scouts and senior citizens.
At the helm, until his passing last fall was Robert Kinsley (shown below with me during Customer Appreciation Day spring 2019). Bob worked in the grocery business for more than 50 years. As a youngster, Bob assisted his father, Clayton, in the original Kinsley Market. Today, his family proudly continues his legacy with his son Chris, President, and Chris's sister, DeeDee, as Vice President.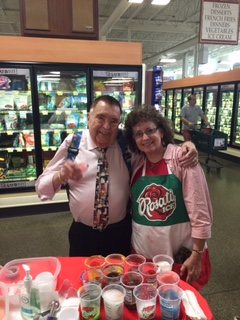 The family joined Wakefern Food Corp. In 1998. According to Chris Kinsley, Sr. "It was the right thing to do. ShopRite has a lot more powerful name recognition than ours did, especially with folks from New Jersey and New York moving to this area (lower Poconos). It was one of the best decisions we ever made becoming a ShopRite."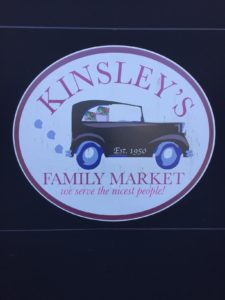 Family Sampled Flavors and Immediately Sold
Years ago, Rosati President Rich Trotter and I met with Chris and his parents – Doris and Bob. It was informal, friendly, and fun, as the family sampled different flavors. Chris agreed to give Rosati Ice a try because it's a "summertime thing." Rosati's 10-ounce cups and 2.5-qt party pails were stocked in the front endcap – not just one or two shelves but the ENTIRE door! (I think we had a little divine intervention with this prime spot as Chris serves on church council at my brother-in-law's church.)
Chris readily admits, "I like the variety of Rosati Ice flavors. People keep checking back. Rosati Ice cups are convenient, grab-n-go, easy to eat."
Kinsley ShopRite carries Rosati 10-ounce cups in strawberry lemonade, cherry, chocolate, cotton candy/blue raz, lemon, lemon lime, mango, patriot, pineapple, root beer, and watermelon. (Say all that in one breath!) Plus, Rosati's newest flavors in fruit ice and Sugar FreeZ. The store also stocks Rosati Ice's 2.5-quart party pails in blue raz, cherry, lemon, mango, and rainbow. As customer Jim Radenhausen states, "too many flavors, too little time."
Not only are their employees so incredibly helpful and polite, but Kinsley ShopRite customers are also the best!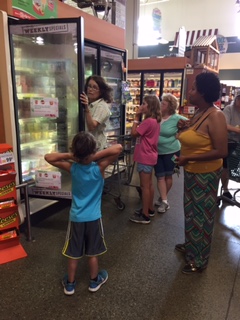 I was there three times giving out samples and had a blast!!! It was fun to hear Bob Hunt make the announcement each time about "the Philly girl is here scooping Rosati Ice." Rosati Ice's newest fan, Jim Radenhausen, recalls "We got the Rosati rainbow and it's very tasty. I've always hoped to see an ice tub especially an affordable one, so this was a welcome addition to see."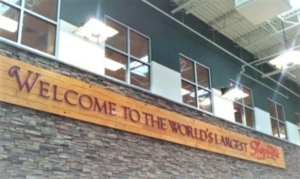 What started in July 2019 as a vendor/customer relationship has become a "win-win for everyone," claims Chris Kinsley, Sr. He likes Rosati's "proactive approach" and Rosati's product is a good seller." Rosati Ice is truly thankful to be their "first." And yes, Rosati Ice is the nation's FIRST Italian ice company and now partnering with the world's largest ShopRite. What a sweet deal!
Kinsleys ShopRite
107 Kinsley Drive
Brodheadsville, PA 18322
570-992-2666
Facebook: @KinsleysShopRite
YouTube: https://youtu.be/NbpO6Ps7hAw