The title of Grateful Dead's classic 70's rock song, Truckin', came to mind after my interview with Brian Collis, owner, Mr. Ding-a-Ling, one of Rosati's longest mobile vending customers.
You see, Brian has been in the driver's seat for more than four decades. The wheels started turning in high school when Brian saw an article in "Parade" magazine about Good Humor trucks. He saved the article and started working for a local company for two years.
When asked about his early beginnings, Brian's brain revved up. "I purchased my first truck in Chicopee, MA and brought it to Albany, NY. It was the only truck in the area in 1974-1977. In 1979, I added three trucks, added 12 in 1989, 26 in 1999 and now I have 60 trucks all together. We became incorporated in 1991."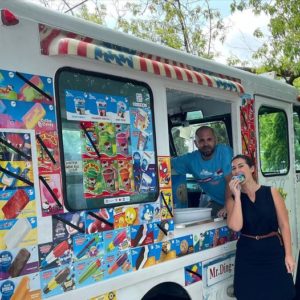 Early on, Brian kicked the tires and sampled a few companies' Italian ices before he decided what to carry on his trucks. While attending the IAICDV convention in the fall of 1998, Brian met Rich Trotter, President of Rosati Ice, and sampled the flavorful offerings. Rosati Ice quickly outsold a competitor's brand tenfold. And, coupled with Rosati's appealing packaging and graphics, Collis knew he'd have a winner.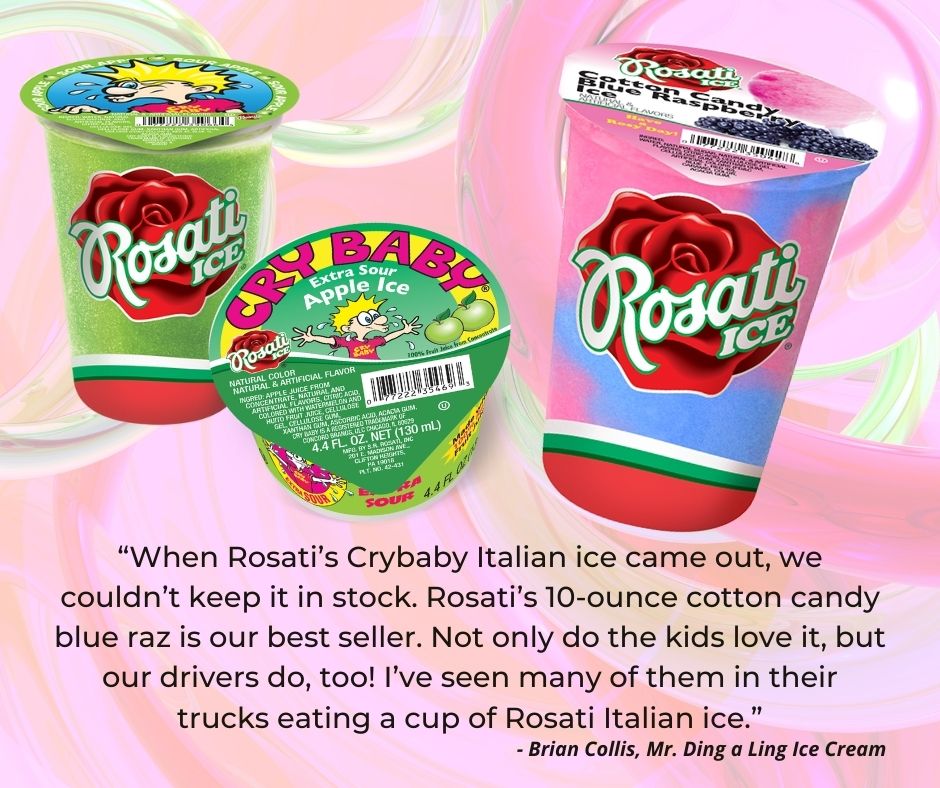 To prepare for the season, Brian buys a truckload of dairy-free, nut-free, gluten-free Rosati Italian Ice: 10-ounce cups in crybaby sour apple, cotton candy/blue raz, watermelon, lemon, lemon lime, and mango; 5-ounce typhoon cone cups in blue raz lemonade; 6-ounce cups in crybaby sour cherry and yellow snow.
As a long-time business owner, I asked what he would advise folks today about starting a mobile vending business. Brian shares, "It's a lot harder now. You need at least $3M to start. It's less expensive to go into the wholesale business."
Brian, along with his wife, Victoria, and their drivers were anything but asleep at the wheel this year. In fact, despite sales losses in most industries due to COVID, they experienced record sales. "Drivers told me they wish COVID would last 10 years. People were throwing money at them. Two years ago, it was a ghost town with folks away during the summer. Not this season, with people working from home."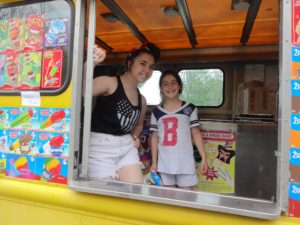 Of course, Brian and his crew have many wonderful memories, but this latest one is the winner.
Folks from the HBO series "Pretty Little Liars" contacted Collis as they wanted to film a scene with his truck in the background. While no actors ate any of the novelties live on the show, after the shoot people did enjoy some. Brian recalls, "We sat there for five hours with all of the cuts and retakes, the camera man was right in front of our van." (How cool is that?!)
Rich's and Brian's mutual admiration and friendship is evident; Brian still has the letter Rich sent him in the late 90's.
"Brian is one of my oldest friends in the business. In 1998, Brian brought Rosati Ice to Albany, NY, for the first time and, to this day, no fleet of trucks carry more Rosati items than Mr. Ding-A-Ling trucks. I am blessed to have Brian as a friend."
Keep on truckin' Brian, Victoria, and your team. Rosati Ice will be with you the entire ride!
Mr. Ding-a-Ling
324 Old Niskayuna Road
Latham, NY 12110
518-786-9246