There is something in the way he stands. So straight and confident.
There is something in his smile. So warm and genuine.
There is something in his work ethic. So strong and unwavering.
Yes, there is "something." Something truly special about Rosati Ice's warehouse manager, Louis DiGiacomo who joined Rosati in April 2017.
This humble Purple Heart recipient, staff sergeant Marine (who is true to the motto, "Once a Marine always a Marine") has a degree in accounting from Drexel (Yea, Dragons! my alma mater) and possesses a wealth of logistics knowledge.
Rosati sure needed Lou's expertise last year and this year with COVID and the endless logistics challenges, from purchasing and receiving supplies, to producing and shipping Rosati's refreshing Italian Ice all over the country.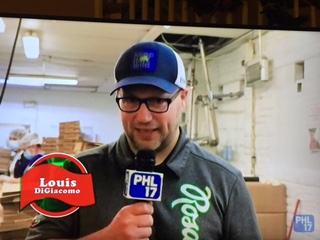 Lou tackles every job and every challenge that come his way. Yes, even the untimely ones! When the freezer floor needed to be replaced, he brought his team together – Nick, Rick, and Bill – to tear up the old concrete floor and replace it with a new one. When the ceiling needed to be replaced in VP Operations' Hamed Seresty's office, again Lou worked with his guys to replace it. "Is there anything Lou can't do?" I often think to myself.
Like a true Marine, Lou does what it takes to always get the job done. "In my 47-year working career, I've never met anyone with such a stellar work ethic. Not only does he arrive at our Rosati plant at the crack of dawn and work a full day, but he frequently works on Saturdays and brings work home."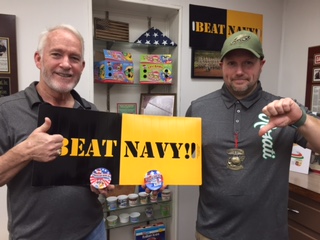 According to his co-worker and Rosati Ice's logistics manager, Pat Schnell, "Lou is a true asset to Rosati Ice. His responsibilities cover a multitude of areas – warehouse management, purchasing, office assistant, and one of the best areas – supplying the office with delicious cookies and candy! And he makes a mean pot of coffee!
At any time, you may ask Lou for help; nothing is too small nor too large. He will spend whatever time is needed with you – most of the time it's just 'listening', and putting a big smile on your face.
Lou is a Marine – Semper Fidelis, Always Faithful, which is shown to all associated with Rosati Ice. He is more than an associate; I am proud to call him my good friend."
The accolades continue with Rosati Ice's bookkeeper, Judy Dinn. "Louis is a tremendously hard working, dedicated Rosati team member; doing so with kindness and a positive attitude!"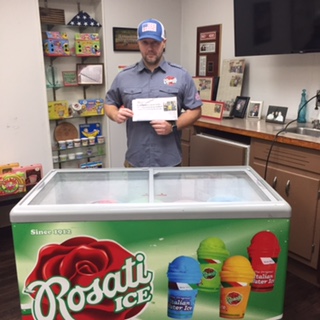 Nick Jester, Rosati Ice's E-Commerce manager agrees, "Lou is an extremely hard working and caring person. I usually see Lou's car on Saturday mornings because he's in the warehouse working overtime. At Rosati's, we are such a small team and Lou is a most crucial member of our operation. Lou goes out of his way to help in every aspect of our business and it shows every day."
Lou DiGiacomo proudly served our country with dignity and honor, and now proudly serves Rosati Ice's vendors, employees and customers. Now, that is something special indeed! Semper Fi, Lou!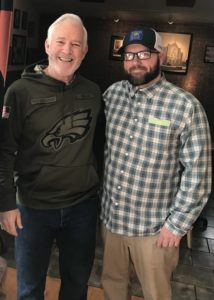 201 E. Madison Avenue, Clifton Heights, PA 19018
610-626-1818