Think about this. If you owned a food manufacturing company and wanted to launch a new product across the country, who would you contact to design your packaging and point-of-sale (POS) materials? A start-up design firm? A general marketing company? Or a graphic designer with decades of experience in the food industry?
Well, for Rich Trotter, President, Rosati Ice, he chose the latter and together with his Rosati customers, they are grateful he reached out to Ed Fenimore, owner, Macadoodle, Inc – a Graphic Design and Product Development Company in suburban Philadelphia.
Their relationship began with a simple question. Decades ago, Rich was on a sales trip in southern Florida and with his likeable, charming approach – and his samples of Rosati's Italian ice cups – he walked into an ice cream wholesaler's office and asked, 'What's new in kids' novelties?' Without hesitation, the man said, 'Cry Baby® Extra Sour Bubble Gum'. To Rich, these words were comparable to the word "plastics" in the movie The Graduate. The addition of Cry Baby® Extra Sour flavor helped Rich take Rosati's full flavor, refreshing Italian Ice across the country for the FIRST time.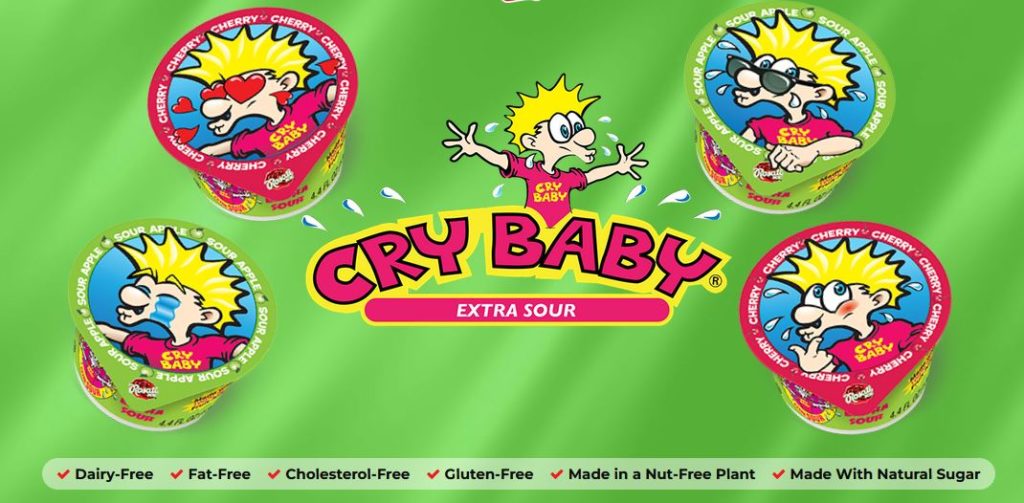 Ed grew up in the food industry because his grandfather and father founded SWELL® – Philadelphia Chewing Gum Corporation and were known for their trademarked Swell® bubble gum and El Bubble® bubble gum cigars. The company started making the rubber gum base in their Germantown plant in 1946 to supply the many bubble gum manufacturers across the United States. As business increased, they found it necessary to expand and moved to Havertown in 1948 to begin their production of a full line of bubble gum and dextrose pressed candies. In the early 90's, they launched Cry Baby® Extra Sour Bubble Gum.
You've heard the expression; "some folks can't walk and chew gum at the same time." For people chewing this new flavor sensation, Ed recommended, "Don't chew while you are driving." He recalled one customer who didn't listen to this advice and then admitted to pulling over in their car to chew the gum as it was SO sour. As for another customer, "His eyes did backflips!"
Upon returning from his trip to Florida, Rich reached out to Ed and his dad. Ed fondly recalls, "Rich and my dad are cut from the same cloth. By the time the sales meeting was over, both Rich and my dad had tongues brightened with the many Rosati Water Ice flavors. We ended up licensing the Cry Baby® name to Rich at about the same time he bought Rosati from the former owners."
Twenty-five years ago, Rosati Ice's Cry Baby® flavors accounted for 95% of summer sales and helped Rich get his foot in the door at schools throughout the country. Currently, Cry Baby® is the number ONE selling Rosati Ice flavor.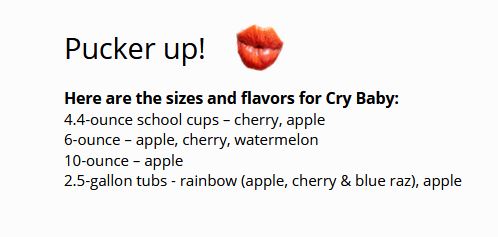 Throughout his tenure, Ed oversaw his family firm's graphic design department. When the company's customer base drastically shrunk, the company was sold. Armed with an impressive portfolio of nationally known product packaging designs, Ed started his company Macadoodle, Inc in February 2006. His designs are bold, colorful, fun, and entice customers to buy the products.
According to Ed, "Rich has a great eye for what he's looking for. He can see a raw concept and mentally take it to the finished product. He's a great partner to work with." This sentiment is mutual for Rich too.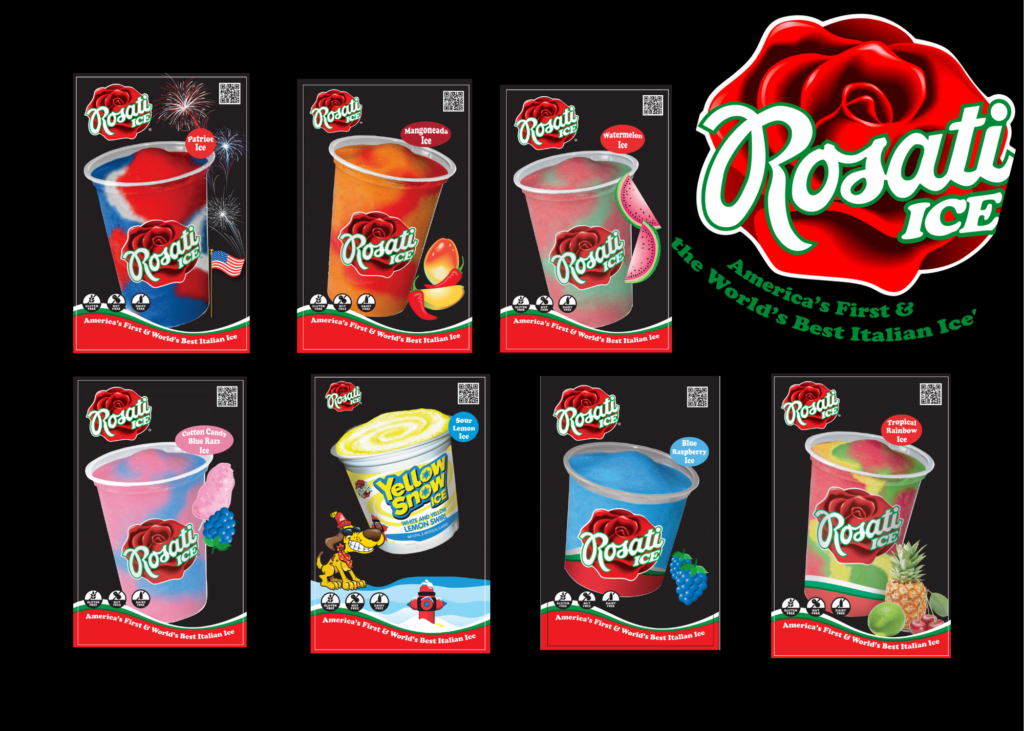 Rosati's customers rave about the design of the POS materials, especially the decals that adorn ice cream trucks selling Rosati Ice's dairy-free, fat-free 6-ounce and 10-ounce Italian ice cups, from coast to coast.
While there may be 100+ SKUs of Rosati Italian Ice, there is only one Ed Fenimore and his signature design styles are evident in Rosati Ice's packaging, banners, signs, flavor boards, decals, posters, brochures, stickers, and t-shirts. Over the last 20 years, Ed has spruced up and modernized the Rosati rose logo and today it remains the symbol of American's First and the World's Best Italian ice.
Ed Fenimore
Email: macadoodleinc@gmail.com
Phone: 610-506-8974