Who doesn't enjoy going to a scoop shop, especially during the summer. The minute you walk in, it's magical, with the bright, cheerful colors and the flavorful selections. And how about that cool vibe? The shiny glass freezers encourage you to peek inside. I don't know about you, but I have a hard time choosing, as they all look oh so delicious.
Rosati's newest scoop shop owner, Tracey Lipps, grew up in Hart, Michigan and purchased it six years ago from her in-laws, who owned the legendary shop since 1995. Since Tracey has always worked there, she knows the business, the customers, and the community.
While the scoop shop is relatively small, only 400 sq.ft., it makes a large impact by creating memories for the community and tourists with its lakeside location and Tracey's creations.
Rosati Italian ice Quenches their Thirst and Their Taste Buds!
Tracey thrives on creating new concoctions. Imagine enjoying her "banana flutter nutter sundae. (You had me at banana!) It's banana pudding ice cream with peanut butter sauce, whipped cream and a cherry" according to her facebook post.
Along with her passion, their location is definitely an asset. This quaint shop is near Silver Lake Sand Dunes and their customers stop in for a refreshing treat to cool off. Rosati Italian ice quenches their thirst and their taste buds!
So how did Rosati Ice's cups get in Hart Dairy Delight? It's a matter of channels of distribution. In March 2020, (right before the shutdowns) Rich Trotter, owner, Rosati Ice, participated in a food show with the folks at Cedar Crest Dairy. Their buyers immediately knew a good thing when they tasted Rosati's full flavor Italian ice and ordered Rosati Ice in 2.5-gallon tubs, 6-ounce and 10-ounce grab-n-go cups.
Cedar Crest's sales rep contacted Tracey about adding a dairy-free, nut-free frozen dessert option to her menu of soft and hard serve ice cream. "I like Rosati's smoothness. It's a great product. Rosati Italian ice fills a niche, since I don't have room for a slushee machine," claims Tracey.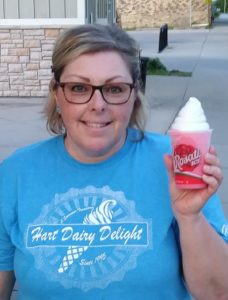 Last season, Tracey added Rosati Ice's 10-ounce cups in American Hero (strawberry lemonade) and mango, and she will do so this season.  "It takes a full season to get the word out about a new item. Everyone that tried Rosati Italian Ice liked it! This spring, my customers started asking for Rosati Ice when I opened up for the season."
Unbeknownst to many folks, the proceeds from the sale of Rosati's American Hero cups go to support the mission of Soldier Strong – "helping veterans take their next steps forward in life." This appealed to Tracey and resonated with her customers, so she proudly displayed our American Hero decal in her shop's window. Why? Like us, Tracey supports a noteworthy cause – Operation Gratitude. According to their web site, their mission is "to forge bonds between Americans and their Military and First Responder Heroes …"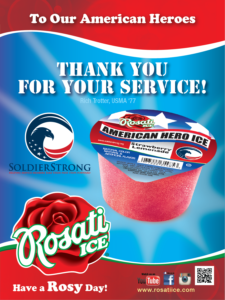 If you are like me and wonder what scoop shop owners do during their "off' season, I couldn't resist asking Tracey. She is involved with the Hart Economic & Redevelopment Team and books bands for the nearby park for their "Music on the Commons" events.
With all that this working mom does, I guess you could say Tracey is the "hart" and soul of her scoop shop and her beloved hometown.
Hart Dairy Delight
206 E. Main Street
Hart, MI 49420
231-742-1498
Like them on facebook: @HartDairyDelight