The September return to school is always an exciting time! Seeing old friends and meeting new teachers makes up somewhat for the sadness in saying goodbye to summer fun.
The start of this 2020 school season is drastically different and emotionally charged. With so many schools going "virtual," the students will have limited in-classroom learning with all its benefits. While it may seem trivial compared to the other stark differences, students in many states will be unable to join their buddies at lunch and enjoy a 100% frozen fruit juice cup of dairy-free, fat-free Rosati Italian Ice.
The Rosati team goes to the head of the class as they take the necessary steps to craft our 4.4 ounce school cups, "smart snack approved" (yea, Rosati!) that count as a ½ cup fruit serving on school lunch menus across the country.
Rosati Ice school cups are Major Allergen Free
The Rosati team has dotted its i's and crossed its t's. Rosati Ice school cups are made with 100% fruit juice, naturally colored and NO sugar added. All Rosati school cups are made in a dairy-free, nut-free facility and are major allergen free! An A+ all the way around! That's a report card every parent and guardian will love!
Rosati Ice President, Rich Trotter, reminisces "When I first bought Rosati Ice 24 years ago, I didn't like the novelty industry business model – busy summer, flat winter." With that in mind, we developed new formulations and packaging and reached out to the school nutrition directors. And the rest, as they say, is History…and Geography, as Rosati Ice is in schools in 25 states.
"Thanks to the noteworthy efforts of the Rosati Ice sales team – Nate Todd, Nick DeKam and Sean Trotter – Rosati's presence in the schools has grown tremendously," states Trotter. From food service managers and school directors to parents and students, Rosati Ice consistently gets high marks from everyone.

School directors "love how we listen to what they need and create specific cups to fit in line with what they believe the kids will love. Rosy 'moji is our top seller, followed by Rosati ice Cry Baby sour cherry," states Nick DeKam, sales associate.
And the kids? Nick continues, "Every student I've ever shown Rosati Ice cups to makes their eyes light up. They sit down and within minutes they want more. Everyone loves the Rosati Ice flavors and smoothness of the italian ice cups. The kids love to find the new 'moji face each time they go up to the lunch line."
Lauren Couchois, RD, SNS, Director, Lee County schools, explains "Rosati Ice's cups are not only a fun, creative way to provide a fruit serving to our students, but they taste great too! We love the Rosati Ice cups, especially the Rosy 'moji cups as they are super popular with our students."
Sean Trotter shares a story about a young student activist who brought back our Cry Baby Ices. "A school district in CA that offered our Cry Baby cups every other week suddenly stopped ordering. We learned there was a new child nutrition director and that person decided to remove the Cry Baby ice cups from the menu. However, a month later, we started getting orders again, and they were ordering twice as much as before. We soon found out that there was a girl in third grade who created a petition to bring the Cry Baby back. She got the signatures of nearly all of the students in her school, and shortly thereafter, they started to menu our Crybabies every week! It always amazes me how a small Rosati Ice cup brings so much joy to students everywhere."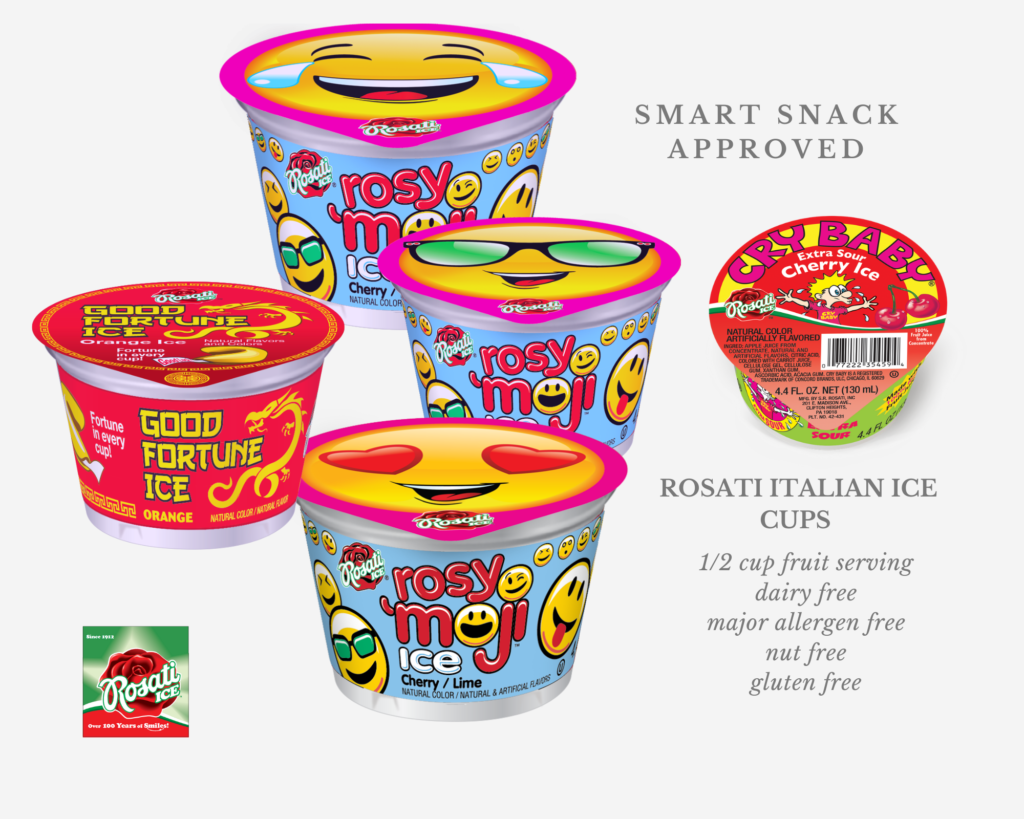 In 2019, Rosati Ice developed Good Fortune Ice with a fun fortune printed under every lid and refreshing orange Italian ice inside. Nate Todd, sales associate, boasts, "Kids and directors remarked how creative and fun it has been to find a fortune under the Rosati Ice lid."
Every month from October to April, Rosati Ice offers fun, seasonal packaging and authentic flavors – Chillin' Bat sweet orange ice for October, Givin' Thanks apple pie ice for Thanksgiving, Sno' Joe wild berry ice for December, Happy New Year strawberry lemonade ice for January, Swee' Heart sweet cherry ice for February, Luck O' the Ice sour apple ice for March, and Hip-Hoppin' tropical fruit ice for April.

Fun and flavor in every cup for every season, Rosati Ices make the Honor Roll for parents and students alike!

Check out www.rosatiice.com for more info on Rosati Ice's K-12 school cups and for a seasonal pre-order form.