When you work for the best (Rosati Ice, the nation's first and the world's best Italian Ice), you want to be the best. That is certainly true of the dynamic duo of Nick Palumbo and Rick Taylor. Their names are frequently spoken together as this hard-working warehouse team share not only a strong work ethic and similar backgrounds and responsibilities, but a sincere fondness for Rosati's family-like culture and closeness.
Rich Trotter, President, Rosati Ice, confirms, "Since Nick and Rick joined Rosati they quickly formed into THE best warehouse team in my 25 years in business. Professional, reliable and friendly, these two men represent Rosati well." Their coworkers unanimously agree!
A Lansdale native, Nick started working for Rosati in the summer of 2019. Previously, he was a general manager of a pizza restaurant, and prior to that, he was a general contractor for a property maintenance company. The skills acquired with these two positions have benefited him at Rosati.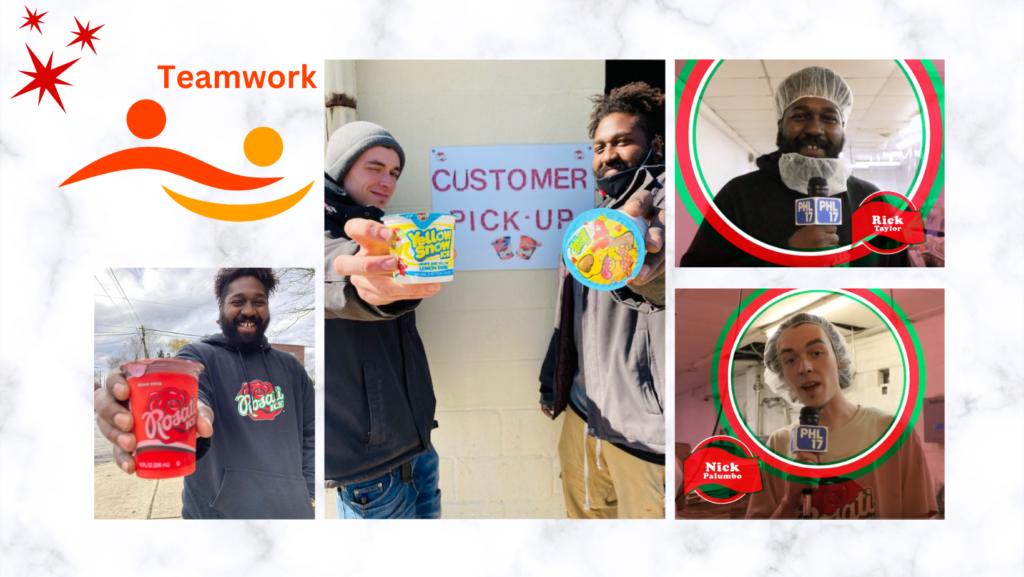 Nick and Rick both understand the entire manufacturing process in Rosati's nut-free, dairy-free Delaware County plant. On the front end, they unload the trucks to receive the items – from stabilizers and flavoring to cups and lids – to make Rosati's legendary water ice, maintain inventory counts, load production needed for each day, stack and wrap pallets, and, finally, load the trucks with cases and cans of full flavor Rosati Italian Ice to be enjoyed by folks all over the country.
When asked about the impact of Covid, Nick stated, "Covid hit the company hard in the beginning, but since then, we've worked hard to bring the business back to good standing." Rick claimed, "At the start of Covid, like many other businesses, we were struggling to stay afloat, but we all stuck together and made it work." Indeed, they did!
A Philadelphia native, Rick started working at Rosati in August of 2018. Previously, he worked as a shift manager at Pizza Hut. "Working at Rosati's has taught me many new skills, such as operating a forklift and working with concrete. I enjoy drawing and playing video games in my spare time."
While Nick and Rick share many similarities – upbeat attitudes and sense of humor – they have a different favorite flavor of water ice. For Nick, it's hands down refreshing coconut (available in 2.5-gallon cans and 10-ounce cups) while Rick likes the really sour taste of Rosati's sour apple (available in 2.5-gallon cans, 6-ounce and 10-ounce cups) "Tastes just like a green apple!"
When asked what they like about their jobs, without missing a beat, they both commented on the family atmosphere. "Everyone feels like family. One great big family. Great time every day. I enjoy the people I work with. All of my coworkers are like family and if I ever need a hand, I know I can rely on them." (I hear sentiments like these from every Rosati employee.)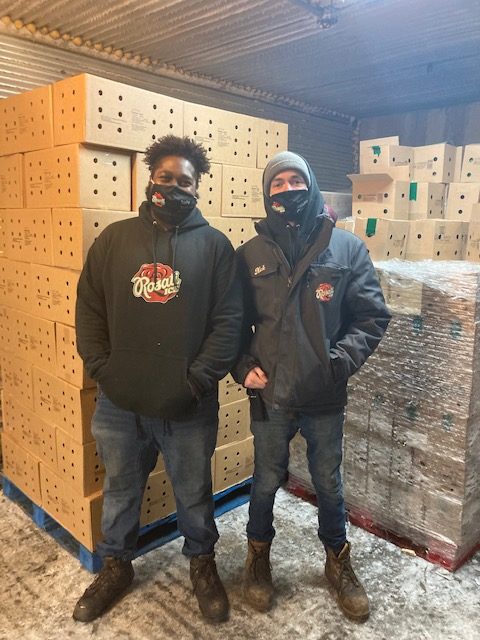 "As their manager, I couldn't ask for a better team."
Who's best to describe this dynamic duo than their boss, Lou DiGiacomo, Rosati Ice General Manager. "Nick and Rick have both been extremely important to Rosati Ice. Their hard work, dedication and attention to detail have helped to keep Rosati the premier Italian water ice manufacturer in the world. Together, they form a perfect team. No matter what is asked of them, whether it be strenuous days, long hours or unexpected weekend work, their answer is always, "I'll do it". Their daily tasks continue to increase as Rosati moves away from dependence on cold storage facilities.  Over the last year, we have transitioned to not only a manufacturing plant, but also a logistics hub. 95% of all Rosati orders now ship directly from Clifton Heights, PA and that's due in large part to their dedication."
Dynamic duo indeed! Eat your hearts out, Batman and Robin! LOL.